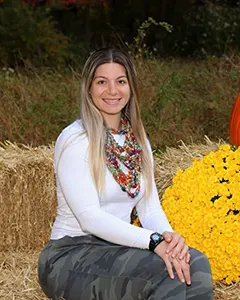 Sabrina
Miss Sabrina is very excited to work at Valleybrook!
Miss Sabrina is currently attending Passaic County Community College and will attain her Associates Degree in Liberal Arts: Humanities in May of 2023. Shortly afterwards, she will be starting a bachelor's program in Education – Grades K-12 – as she is very passionate about becoming a teacher one day. In addition, she has worked as a massage therapist for the past 12 years while also raising her two young children and going to school. In 2021, Miss Sabrina moved to Long Valley with her husband, children, and dog, after residing in Little Falls, NJ for many years.
Last year, during Miss Sabrina's visit to enroll her daughter into Valleybrook's Owls' program, she was presented with the opportunity to work at the Meadowbrook Summer Camp program. Within this role, she thrived as a Group Leader, helping to guide and nurture the boys within her kindergarten group. Miss Sabrina's ease with the children and ability to effectively handle any and all circumstances has led her to be promoted, this upcoming year, to the position of Division Head, which is part of the Leadership Team. Needless to say, Miss Sabrina loves working with children while building their confidence and having fun!
Miss Sabrina's loves spending time making memories with her family and friends. Some of her favorite things to do with her loved ones are cooking, exercising, crafting, reading, and outdoor activities.