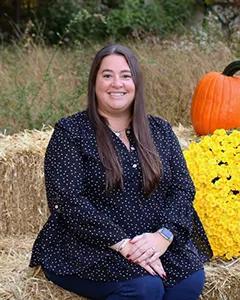 Erica is thrilled to join the Valley Brook team. She has been teaching for over 12 years, with experience in both Preschool and Kindergarten. Erica looks forward to working with Valley Brook's strong team of teachers to create an optimal learning environment where students will thrive. She believes in developing a solid educational foundation, encompassing social and emotional growth with play based learning practices. Erica feels very strongly about making sure each child is met at their level to create a successful and positive learning experience.
During the summer, you can find Erica at camp. She is a camp "lifer" and enjoys the opportunity to connect with children in her favorite setting. She is a part of the leadership team at Meadowbrook Country Day Camp as the Division Head for Kindergarten Boys.
Erica is an avid crafter and baker in her free time. She loves creating custom baked goods and also has a personalized gift business. She lives in Randolph with her husband, two daughters, Casey and Jordyn, and dog, Chester.